Sabah Alhallak is a board member of the Syrian Women's League and the Syrian League for Citizenship. She is a women's rights activist and expert member of the United Nations Committee on the Elimination of Discrimination Against Women (CEDAW). She is a certified gender training, running workshops across the Arab region. She is active in both international and national processes related to women's representation in peace-building and the transition for a democratic Syria. Ms. Alhallak is a member of the Syrian Women's Initiative for Peace and Democracy hosted by UN Women, and active in the Independent International Commission of Inquiry on the Syrian Arab Republic.
Asieh Amini is an award-winning activist, journalist and poet. She studied journalism at Allameh Tabataba'i University in Tehran, and received a master's degree in Equality and Diversity from the Norwegian University of Science and Technology. Asieh's fight against stoning and the execution of women and juveniles garnered her Human Rights Watch's 2009 Hellmann/Hammett award, the 2012 Oxfam Novib/PEN award (2012) and the 2014 Ord i Grenseland Prize. Following the controversial Iranian presidential election of 2009, Asieh left Iran and came to Norway. She resides in Trondheim and is a guest writer for ICORN and on the board of directors of PEN Norway.
Rasha Awale is a Ph.D candidate in American and British studies at the University of Debrecen's School of Literature and Cultural Studies. She holds a master's degree in American studies from Jordan University and a bachelor's in international relations from Al-Hussein Bin Talal University. She previously worked as a researcher in the international relations division of the Greater Amman Municipality in Jordan, and as a program coordinator for the Metropolis Women's International Network. In 2014 Rasha was chosen to participate in the U.S. State Department Leadership for Democracy fellowship program, for which she spent two months at the University of Syracuse and another two interning at Freedom House.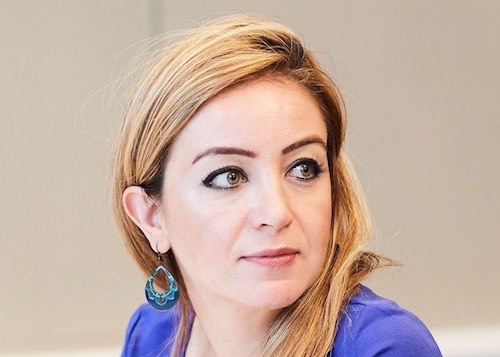 Zaina Erhaim is a Syrian journalist and director. A former broadcast journalist with BBC Arabic, she returned to Aleppo in 2013 to report on the Syrian civil war. Erhaim has contributed to The Economist, The Guardian, Newsweek, Middle East Eye, Orient TV, Al-Hayat and Syria-News. She has trained hundreds of citizen reporters in print and TV journalism whilst in Syria until she fled in 2015. She is the coordinator on a Syria project by the Institute for War and Peace Reporting (IWPR) and the director of Syria's Rebellious Women, a collection of documentary films detailing the lives of women living in rebel-held Aleppo. She is a recipient of the Peter Mackler Award for Courageous and Ethical Journalism and the Index on Censorship's Freedom of Expression Award.
Ozlem Ezer is a women's studies and literature researcher, writer, translator and educator. She uses marginalized texts as tools to criticize and contextualize canon formation in English and Turkish literature, with a particular interest in life stories of women in the "Greater Middle East", including Turkey and Northern Cyprus. She is the author of Dogu, Bati ve Kadin (2012) and Syrian Women Refugees (2019). She holds degrees in English Language and Literature (BA) and Gender and Women's Studies (PhD). She has been the recipient of several fellowships, awards, and residencies with the German Academic Exchange Service (DAAD), Hedgebrook and the University of California, Berkeley.
Afaf Jabiri is a Jordanian academic and activist who has advocated for gender equality, law and policy reform in the Middle East for more than 20 years. Jr. Jabiri is a senior lecturer in the School of Social Sciences at the University of East London, and has taught courses on Gender and Islam, Gender in the Middle East, and Gendering Migration and Diasporas at SOAS University of London, the London School of Economics and the University of Leicester. She is a member of the Harvard Kennedy School's Carr Center for Human Rights' global initiative on violence against women. Dr. Jabiri is the author of the book Gendered Politics and Law in Jordan: guardianship over women.
Asma Khalifa is a Libyan activist and researcher who has worked on human rights, women's rights and youth empowerment since 2011. Ms. Khalifa is the co-founder of Tamazight Women's Movement, a think/do tank that is working on gender equality and research on the indigenous women of Libya and North Africa, for which she was named one of the 30 most extraordinary voices by the African Women in Leadership Organization in 2018. She was named one of the 100 most influential young Africans by the Africa Youth Awards and received the Luxembourg Peace Prize in 2016.
Hana al-Khamri is a Yemeni activist who has lived most of her life in Saudi Arabia. She worked for five years in Jeddah as a journalist for a local newspaper, in an office segregated from male colleagues. She currently resides in Sweden where she works as a writer. Her article, "Gender-Apartheid Saudi Arabia Should be Isolated" was published in Swedish daily SvD, Norwegian daily Aftenposten and Danish daily Information. Ms. al-Khamri is in the process of writing her debut book on female journalists in Saudi Arabia, set to be published in 2019.
Maryam Al-Khawaja is a leading voice for human rights and political reform in Bahrain and the Gulf region. She played an instrumental role in the pro-democracy protests in Bahrain's Pearl Roundabout in February 2011. Lacking a coordinated response from official news agencies, Maryam live-tweeted the protests for two successive days. In retaliation, she was arrested and sentenced in absentia to one year in prison. Maryam serves on the Board of the International Service for Human Rights, Urgent Action Fund and No Hiding Place. She was previously Co-Director at the Gulf Center for Human Rights. In 2018, she launched her own advocacy organization, Al-Khawaja Consulting.
Maryam Hosseinkhah is a journalist and researcher. She is one of the founding members of the One Million Signatures Campaign, an Iranian movement advocating for the abolition of discriminatory laws. She earned her Masters Degree from the Department of Near and Middle Eastern Studies at University of Dublin, Trinity College. In 2007, Maryam was arrested for her work with the One Million Signatures Campaign and sentenced to prison, where she continued to write. She is the author of Thirty-five Years of Forced Hijab: The Widespread and Systematic Violation of Women Rights in Iran; The Unfinished Tale: The Mothers and Families of Khavaran; and The Forgotten Women: Voices from Behind Bars in Iran.
Elham Manea is a writer, activist and associate professor at the University of Zurich, where she specializes in the Middle East. She holds a Ph.D in political science from the University of Zurich and a master's in comparative politics from American University in Washington, D.C. She currently works at the Political Science Institute at the University of Zurich and as a consultant for Swiss government agencies and international human rights organizations. In 2010, the Swiss Federal Council appointed her a member of the Federal Commission for Women's Affairs. She has published Women and Shari'a Law: the impact of legal pluralism in the U.K. (2016); The Arab State and Women's Rights: the trap of authoritarian governance (2011); and two novels in Arabic: Echo (2005) and Sins (2008). Her latest book is Der Alltägliche Islamismus (Islamism Mainstreamed), published in 2018.
Shahrazad Magrabi is co-founder and executive director of the Libyan Women Forum (LWF). Shahrazad is the main driving force and inspiration behind LWF, an organization that promotes skills in negotiation and mediation to empower women to play a significant role in peace-building, in addition to providing training to activists to promote pluralism, human rights and counter-extremism. Shahrazad was among the 13 women selected for the National Preparatory Dialogue Commission established by the government of Ali Zeidan in January 2014. She collaborated with the UN Mission in Libya to arrange the conference that drafted the 2015 Minimum Women's Peace Agenda for Libya.
Yasmin Al-Nadheri is a Yemeni regional development expert and a consultant at Deutsche Gesellschaft für Internationale Zusammenarbeit (the German Society for International Cooperation, GIZ) in Jordan. Her work is primarily centered around issues of peace and security. She is currently serving as the secretary general for Peace Track, a Yemen-focused grassroots initiative aiming to localize the peace process and create a space for women, youth and civil society organizations to amplify their voices.
Leila Orand is a writer and journalist with more than 15 years of experience, focusing on gender and violence against women. She is currently a master's student at the Norwegian University of Life Sciences and at the OsloMet University. Before leaving Iran, she was an editor at Jahan-e-Eghtesad newspaper, the editor-in-chief at Omid News Agency and a columnist at Goharan, the largest literary magazine in Iran. In 2013 and 2014, she worked as a member of the editorial team of a periodical published by Freedom House. A collection of Ms. Orand's short stories will be available soon from Mehri Publication in London.
Azadeh Pourzand is an international development professional dedicated to civil society strengthening and media development for the promotion of gender equality, rule of law, good governance, women's economic empowerment, freedom of expression and minority rights. She is the co-founder and executive director of a US-based non-for-profit organization, Siamak Pourzand Foundation, focused on promoting freedom of expression for artists, journalists and civil society advocates. She holds a Master of Public Policy from Harvard Kennedy School of Government, and a Master of Business Administration from Nyenrode Universiteit in the Netherlands.
Taffan Ako Sharif is a student activist, working with EmpowHERments and her own foundation TISFF to empower and assist displaced and abused women and children in need in Syria, Kurdistan and Cambodia. EmpoweHERments supports girls and women who have fled ISIS and educates policy-makers on human trafficking and prostitution in Cambodia. She is the coordinating ambassador for Europe at One Young World.
Nargess Tavassolian was a speaker at the 2017 Women in Charge event at the Nobel Peace Center. She is an Iranian journalist, legal analyst and legal consultant with a Ph.D in Law from the University of London. She has conducted research on the issue of women's rights and gender equality in Iran and worked with various organizations and media outlets. She is currently a journalist at Iran International News TV. Dr. Tavassolian is the daughter of Nobel Laureate Shirin Ebadi.